"New Year, New You". That's the mantra that was floating around the internet at the beginning of 2017. On January 8, 2017 I started dreadlocks. While it may seem like I just hopped onto the "brand new me" bandwagon by making a rash decision, dreading my natural hair is actually something I had been thinking long and hard about for a long time. Here are four reasons why dreading my hair was more than a fad and one of the best things I've done this year.
1.
This slideshow requires JavaScript.
2. (Re)self-discovery
Even though I've worn my hair naturally (without chemical straighteners) for more than seven years, getting dreads was a whole different ballgame for me. I've been re-learning how to not only take care of my hair, but also how to love it. My dreads were started using the coil method, and my 'baby' locs were very sleek during the first couple of months.
Then my dreads started entering the 'ugly' stage, which I had hoped I could just bypass.
When Jesus doesn't say yes 😒
During this process, I've also had to sift through A LOT of misinformation. There were many voices telling me to use a specific method or product, and I think because this was a new hair journey for me I forgot some of the basics, such as 'listening' to my own hair. I'm now re-learning my hair's voice—what products and methods she likes and dislikes.
3. Recommitment: Yes to the Dreads
Dreads are forever…or so they used to say. I briefly mentioned the ugly turn my hair took some months back. At that point I had a choice to make. I could either continue growing out my locs or tell them "Girl bye".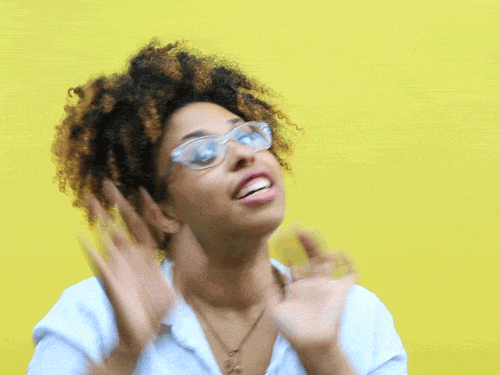 There were a few times I thought I would abandon ship and give up on my dreads. Being in the ugly stage and not knowing what ultimate transformation my locs would take scared me. A lot. But I've come to a point where no matter what my hair looks like I'll love it, not because it will always look aesthetically beautiful, but because it's mine. I'm happy to say that even though I haven't completely left the ugly stage, I've recommitted to my locs and the natural hair process.
4. Versatility
One of my biggest reasons for not getting dreads earlier was my belief that dreadlocks were restrictive and lacked diverse hairstyles. I LOVE my fro, and I had convinced myself that dreadlocks were boring and would confine me to being same hairstyle Hannah. I was wrong! Over the past year, I've opened my eyes and seen the beauty and diversity of dreadlocks. They can be curled, styled, left to hang loose, etc. One of my favorite things about my locs is that I can still do some of my favorite hairstyles from over the years, such as bantu knots, while also incorporating new ones. Also, since recently taking down a goddess crown hairstyle to reveal my beautifully curled hair, I am happy to say that I will indeed be a loc'd bride!!!
But enough about me! I would love to hear from you. If you're a naturlista (or on the fence) I would love to hear about where you are in your hair journey. Have you made or considered making any major hair transitions along the way? Let me know in the comments section below. ❤